FarmQA's Field Journal tool is a way store and view all events associated with a field within the FarmQA web app. Field Journals automatically populate with your scouting reports, recommendations, and planting and harvest dates. Users can also filter the task list by event type, like filtering by Recommendations to show all the spray events for the year. See the instructions below to learn more about the Field Journal's functionality.
Access Field Journals from Map View
Log in to your FarmQA account from the web app.
Make sure you're in the Growing Season you want to see the Field Journal for, then select your desired field.
In the map slide out pane, click on the events button (pictured below).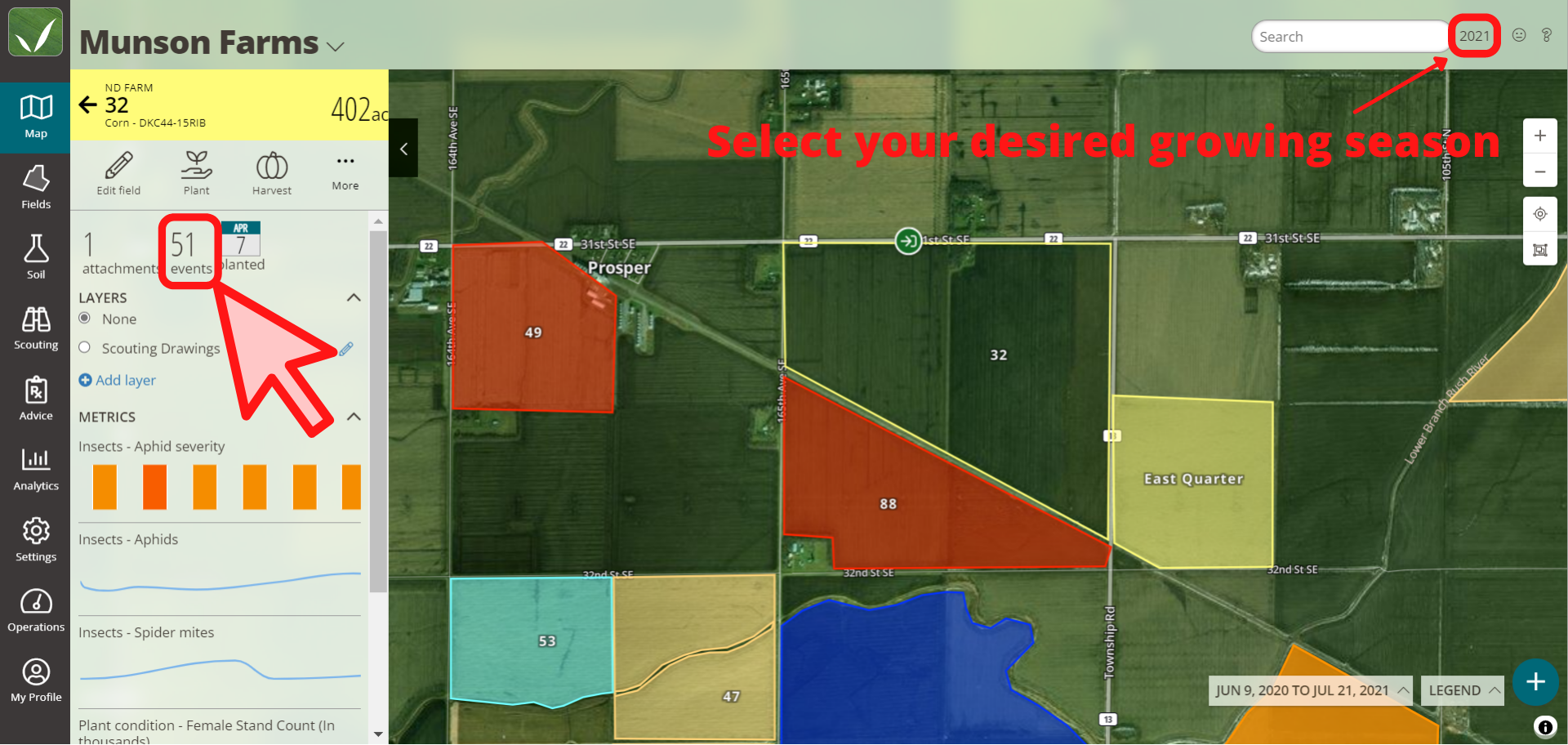 All of the events in the Field Journal are ordered by date, each of which can be clicked on to get to a full-page detail view.

NOTE: Recommendations that show a check mark next to them have been completed. Completed recommendations will include weather data in the detail view.

Additionally, you can export the event log to a PDF by clicking the export button. See this article to learn more about exporting your Field Journals to PDF.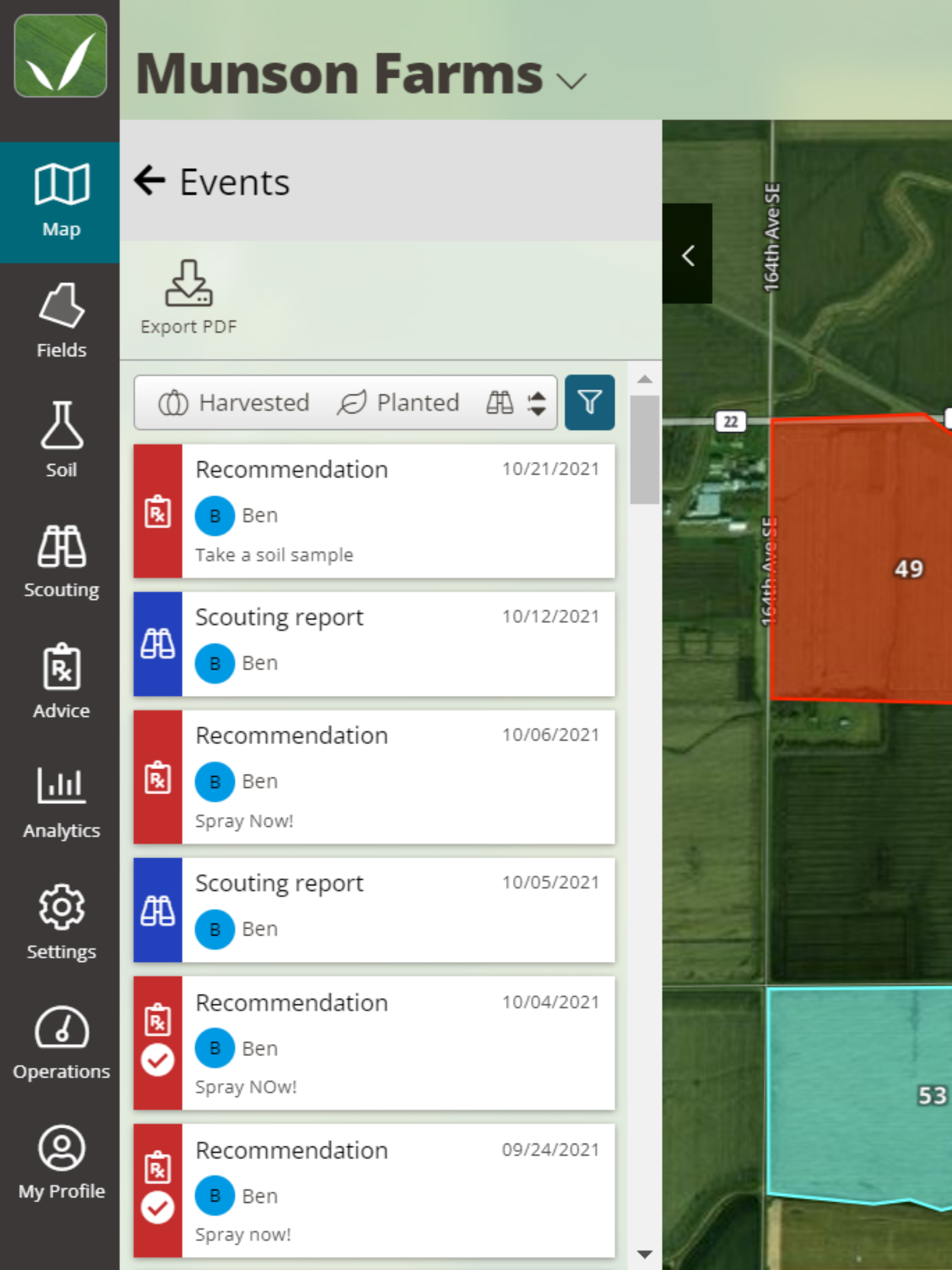 The Field Journal list can be edited to only include the report types you want to see. For example, you might just want to export all of the scouting reports for a field. Use the dropdown menu and only select the report types that you want to see in the Field Journal (pictured below).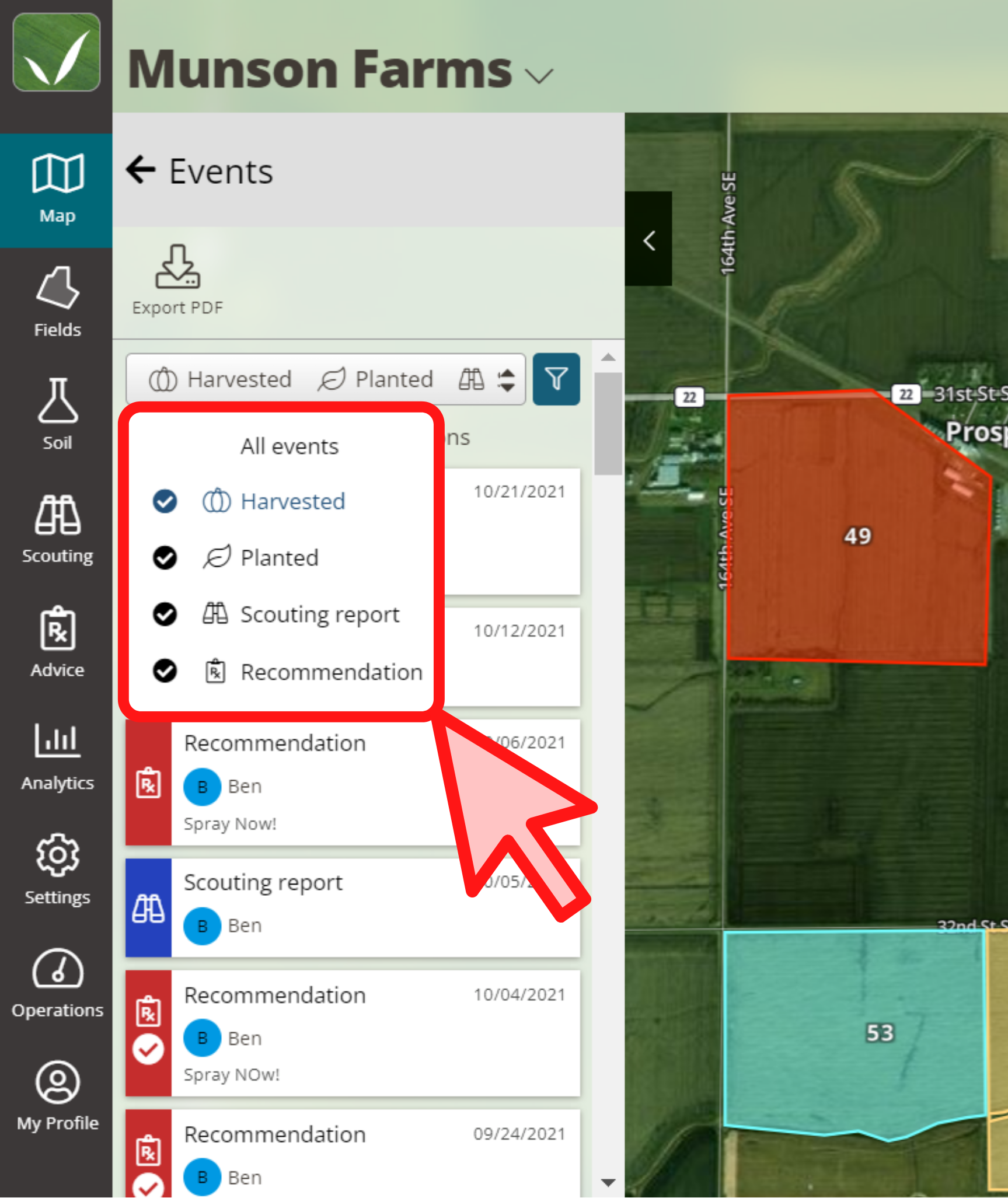 The Field Journal can also be used to see all events across all growing seasons in FarmQA. This can give you a comprehensive list of scouting reports for a field, for example. Clicking on the Filter icon will make the Show all events across seasons button appear. Check the box next to that text to populate your field journal with all events across growing seasons (pictured below).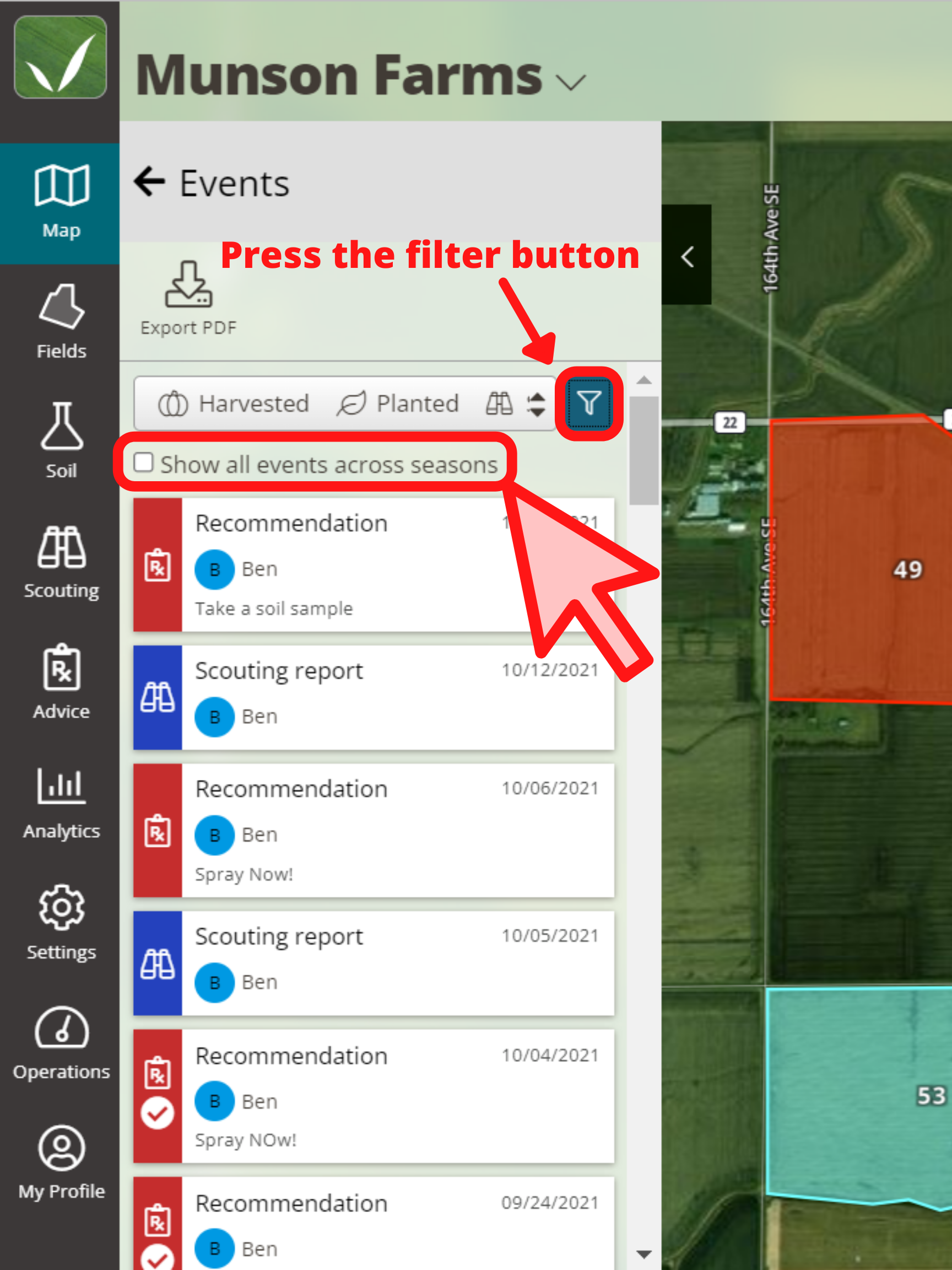 Access Field Journals from List View
Log in to your FarmQA account from the web app if you aren't already.
Click on the Fields tab.
Scroll down the list of fields until you find your desired one or use the Search bar in the upper right-hand corner of the screen to search for your desired field.
Once you've selected your desired field, scroll over to the Events column and click on the blue highlighted number to open the Field Journal. Field Journal functionality is the same when accessed from the List View as it is from the Map View.
A PDF can be generated as well by clicking export at the bottom of the list. See this article for more details.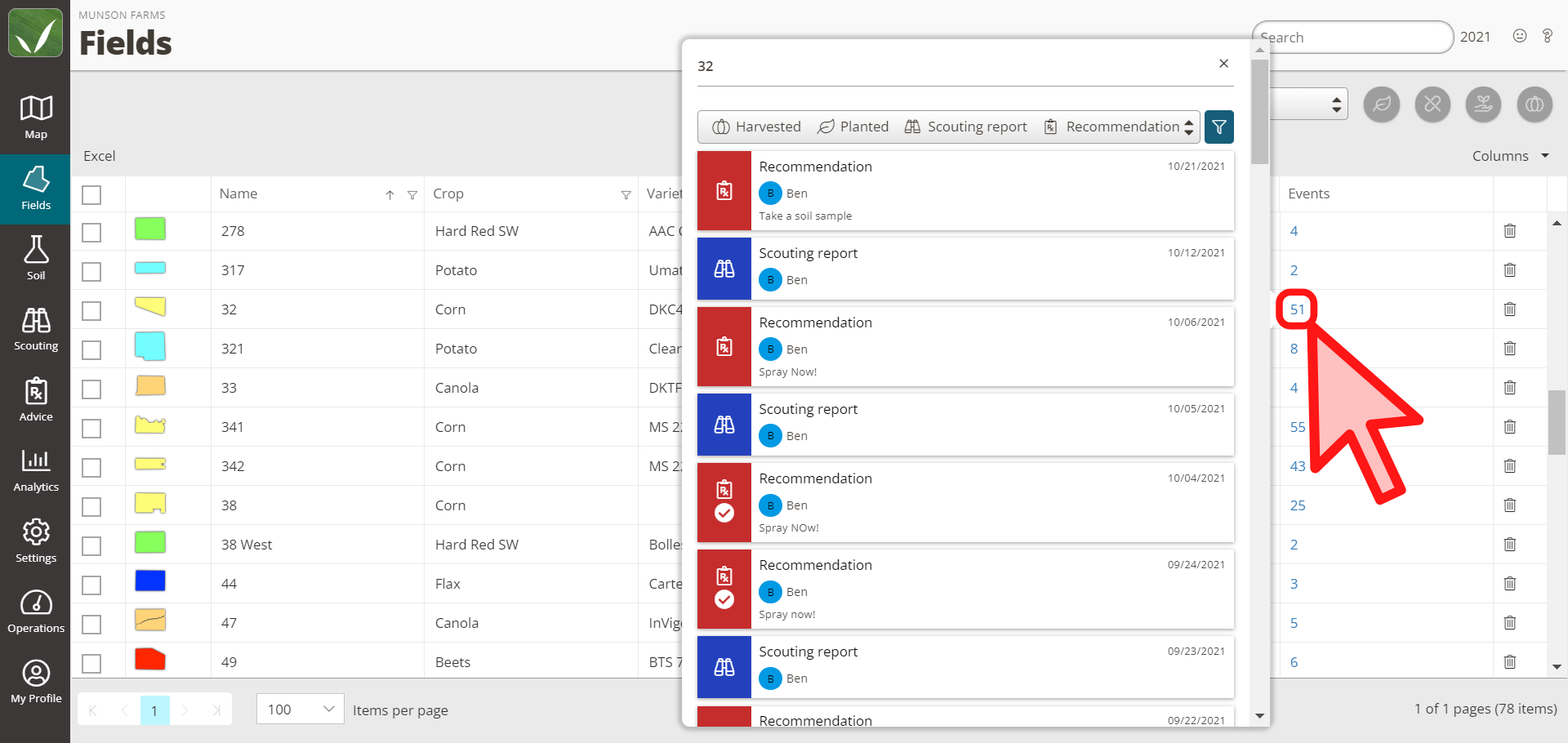 Please contact FarmQA Support with any further questions