We're glad that you're interested in using the FarmQA mobile app for your agronomic management needs! We want to make your experience as smooth and productive as possible, so we'd like to get you oriented with getting your account going. Read the rest of this article to learn more about creating accounts in FarmQA for yourself and others as well as getting your account setup through the FarmQA mobile app.
Signing IN vs. Signing UP: know the difference
Creating an enterprise in FarmQA from the mobile app
Signing IN vs. Signing UP: know the difference
You might think that you want to sign up for an account when you're getting started with FarmQA. Depending on what kind of user you are, this might not be what you want to do.
When you click Sign Up, you're actually creating a new enterprise within the FarmQA platform. An enterprise is the account for an entire organization. An enterprise can be an ag retailer, an agronomy service, a family farm, and so on. If you're creating an enterprise, you're likely going to be the administrator of the account for your organization. You'll also be responsible for adding the other users to your organization, including growers, crop scouts, drivers, and viewers.
For most users, you will want to press Sign In every time you use the FarmQA mobile app, even on the first time you access your account. This is because your account has already been made by the administrator of the enterprise that you will be working in. They will be able to provide you with your login credentials, including your preferred login email and password. If you're still having trouble accessing your account, please contact them or a member of the FarmQA Support team.
Creating an enterprise in FarmQA from the mobile app
Pull up the FarmQA mobile app on your mobile device. This can be done in one of the following ways:
Open the app and click Sign Up (pictured below).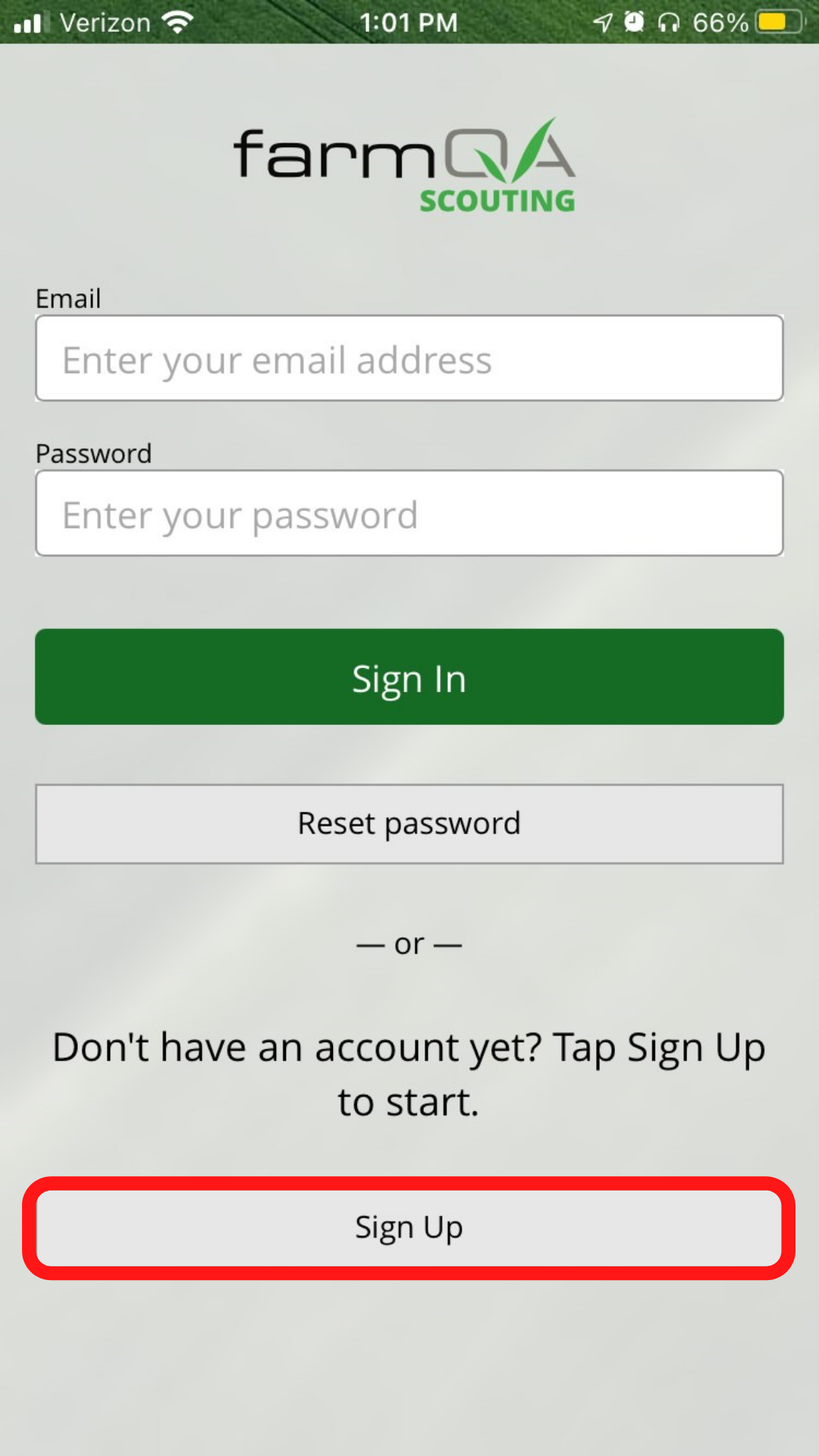 On the next screen enter your name and email address, then click Next.
An email will be sent to the address provided. Enter the code on the next screen to start the account creation process (pictured below).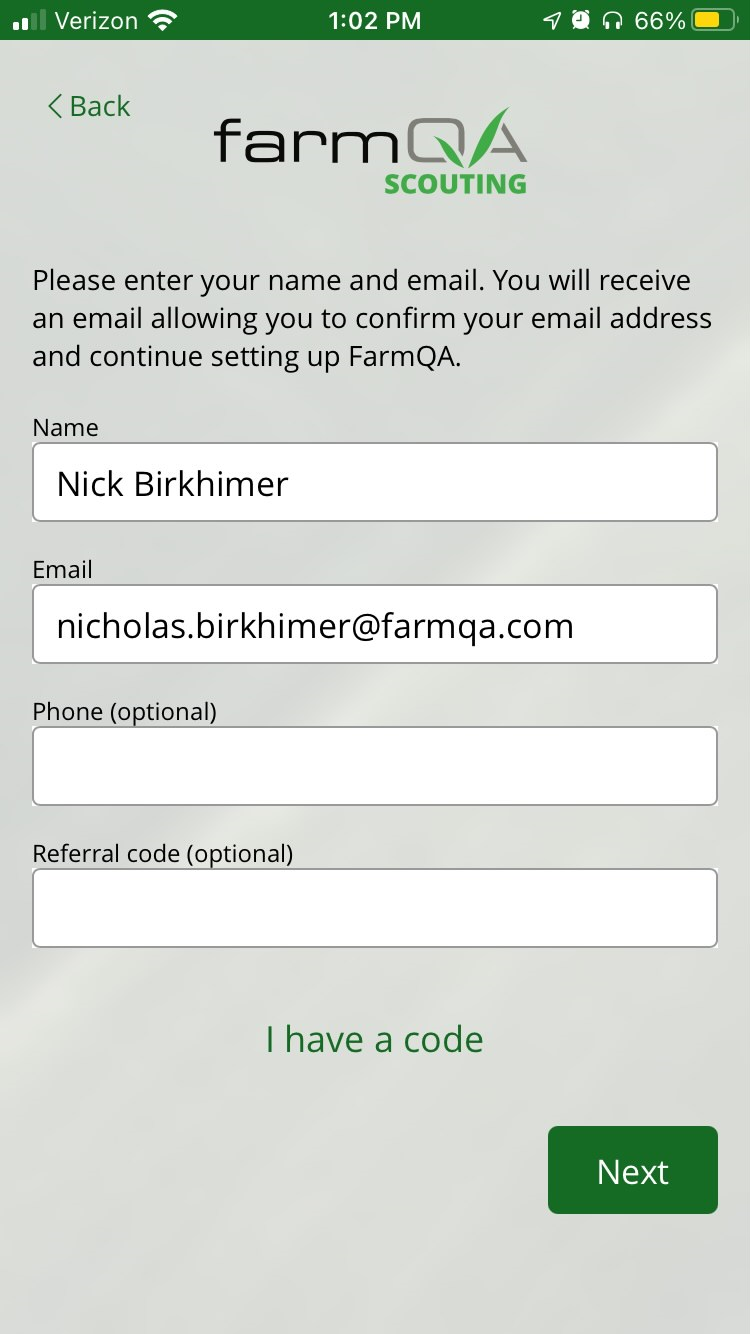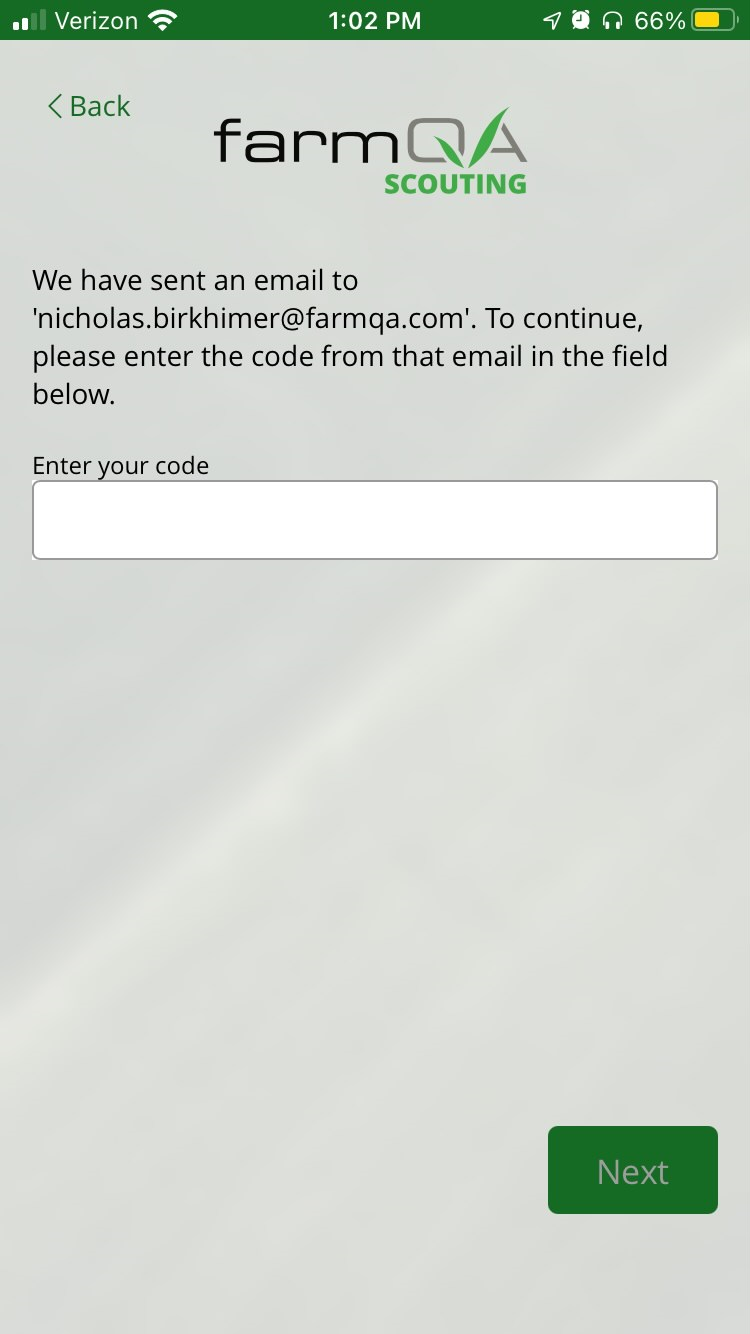 The app will now walk through the process of adding crops, a growing season, and a company name. This is similar to the process of creating an account from the FarmQA web app, which you can learn more about here.
After logging in you may want to do some of the following things:
Please contact FarmQA Support with any further questions