Overview
Within FarmQA Controller and FarmQA Scouting, a user can customize their scouting report layout. This includes options for the orientation of your PDF, page size, map background image, and question layout. Follow the instructions below to learn more.
FarmQA Scouting-Creating and Sharing PDF Reports
Start by logging into your FarmQA Scouting app.
Next click on the Scouting tab and scroll down to the past reports section.
Click on the report you wish to export. A dialogue box appears allowing you to select your customization options (see below).

NOTE: See the bottom of this article for details on each option.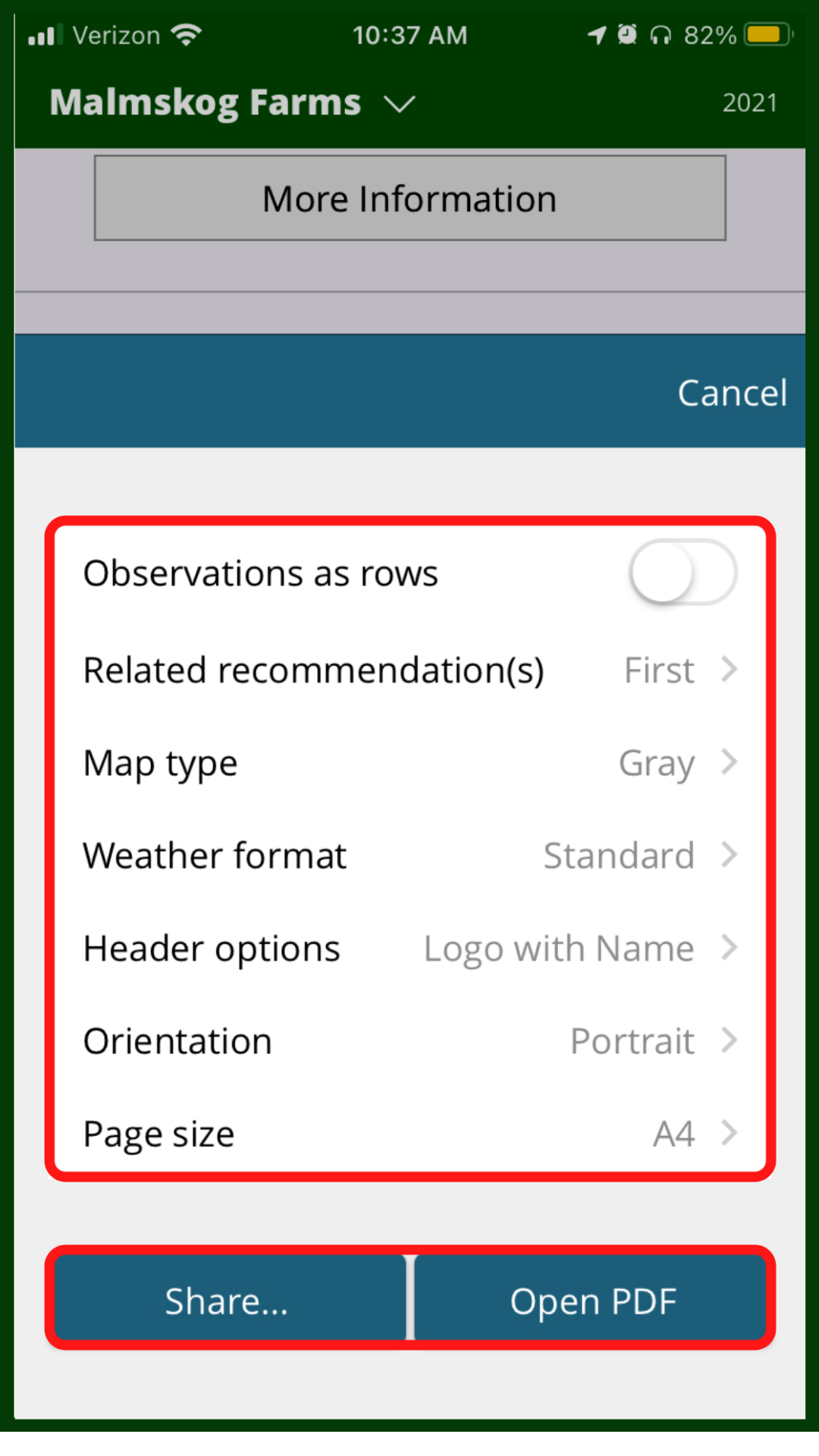 Send the report directly to the desired recipient by pressing the Share... button, or open the PDF on your mobile device by pressing the Open PDF button.
FarmQA Controller-Creating and Sharing PDF Reports
Start by logging into your FarmQA Controller account.
Click on the Scouting tab and select the report(s) you wish to export.

Note: Use the check box left of the report to select the desired report from the list view.

Proceed by clicking the export button in the top right-hand corner of the screen (see below)
Then click the Export icon at the upper right-hand part of the screen (pictured below). This will open the menu you will use to customize how you want to format your report.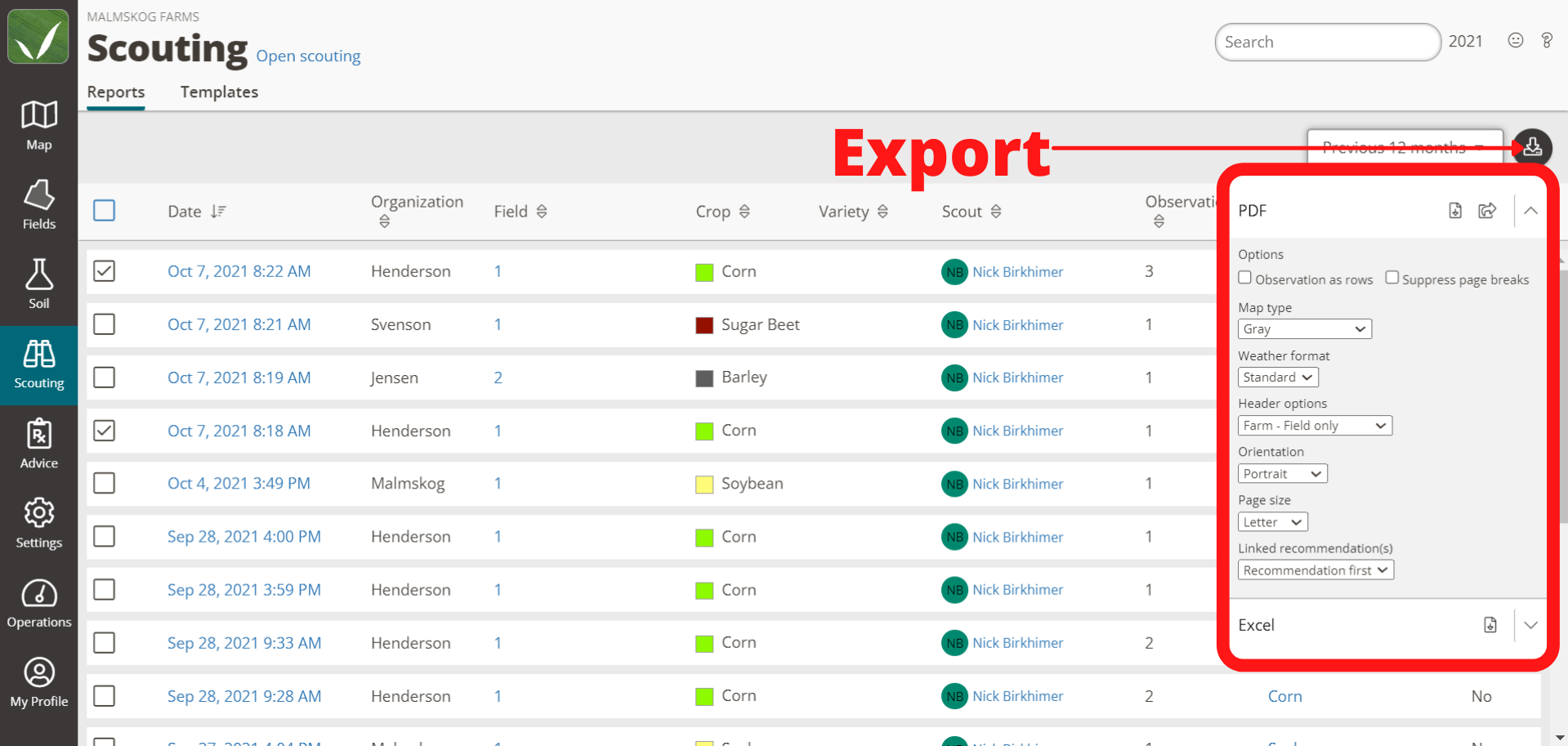 After selecting an export option, select the format you would like to export your report as. You can export them as a single PDF, or you can have the information exported as an Excel file.

Note: multiple reports can be exported at the same time. They will appear in one PDF with one report after the other.

FarmQA Controller will remember a users export preferences to expedite the process of exporting future reports.
PDF Export options
FarmQA gives you a number of options to customize the format of your scouting reports. See the below descriptions to see how to use each option.
Observation as rows

By default observations are listed as columns and questions are rows within FarmQA Scouting reports. This layout option works well for reports with many questions (ex: 5+ questions).
Toggling the Observation as rows option will flip the layout to display observations as rows and questions as columns. This layout works well for reports with few questions but lots of observation points (ex: fewer than 5 questions and more than 5 observation points).
Suppress page breaks


If multiple scouting reports are being printed in the same PDF, FarmQA will automatically start a new page for each scouting report. Select the Suppress page breaks option to have new reports populate right after each other in PDF reports.
Related recommendation(s)


Toggling this option will add any Recommendation reports that have been associated with the scouting report(s) you have selected to the PDF report. You have the option of adding the Recommendation report First or Last in your PDF report.
Map type

This option can be used to change the background map of the field boundary image on your exported scouting report.
The following map options are available:


Gray (DEFAULT)
Terrain
Terrain with labels (this is the same map shown within Controller map view)
Dark
Light
Road
None (this option is ideal for a summary report of multiple fields or Adhoc scouting)
Weather format

This option allows you to toggle whether or not you want to see weather conditions in field at the time when your scouting report was submitted (pictured below). Selecting the None option will omit the weather data from your report.
Header Options

FarmQA provides the following options for displaying header information on your Scouting report:

Logo with Enterprise Name
Logo with Farm/Field Name
Logo only
Enterprise Name only
Farm/Field Name only
Orientation

Portrait (DEFAULT)

Note: This option works well for reports with a significant number of observation points

Landscape

Note: This option works well for reports with a significant number of questions
Page size: select the size format you want to export your PDF as. Below are listed the size options that FarmQA supports for PDF export.
--- United States Paper Sizes ---

Size

Millimeters x Millimeters

Inches x Inches

Letter size (DEFAULT)
216 x 279
8.5 x 11
Legal size
216 x 356
8.5 x 14
Tabloid size
279 x 432
11 x 17
Ledger size
432 x 279
17 x 11
--- International Paper Sizes ---
Size
Millimeters x Millimeters
Inches x Inches
A2
420 X 594
16

13

⁄

24

×

23

3

⁄

8

A3
297 X 420
11

17

⁄

24

×

16

13

⁄

24

A4
210 X 297
8

1

⁄

4

×

11

17

⁄

24

A5
148 X 210
5

5

⁄

6

×

8

1

⁄

4

B4
250 X 353
9

5

⁄

6

×

13

11

⁄

12

B5
176 X 250
6

11

⁄

12

×

9

5

⁄

6
Note: If you will strictly be viewing reports in a digital form, a larger page size can be used to appropriately space questions horizontally or vertically
Frequently asked questions
If downloading PDF scouting reports within the scouting app, the changed preferences will not be used.
Please contact FarmQA Support with any further questions