General User Overview
Crops can easily be assigned to fields within FarmQA controller. This feature allows users to easily track where crops and varieties are planted geographically from season to season and can also help with the planning process for future years. Instructions for assigning a crop to a field are provided below.
Bulk Assigning crops to fields
1. Login to FarmQA controller and access the desired enterprise to which crops are to be assigned.  https://controller.farmqa.com/
2. Within the enterprise, click on the "map" icon on the left-hand side of the screen. Next click "Assign crop to field" on the bottom of the map options slide out pane.
Note: Crops will need to be added to the enterprise before this step will be possible. Please follow this link if crops are not yet added. Adding a Crop
3. Next select the growing season containing the crops you wish to assign, then select the crop. (3)
4. Now the map view can be used to navigate to the fields a user wishes to assign crops to.
5. Click on the fields should be assigned to the selected crop (4), the fields will turn the color of the pre-selected crop color and will be listed in the pop out menu to the left.
6. Next click the "Assign" button to finalize assignments (5). Now a second crop can be selected and the process can be repeated.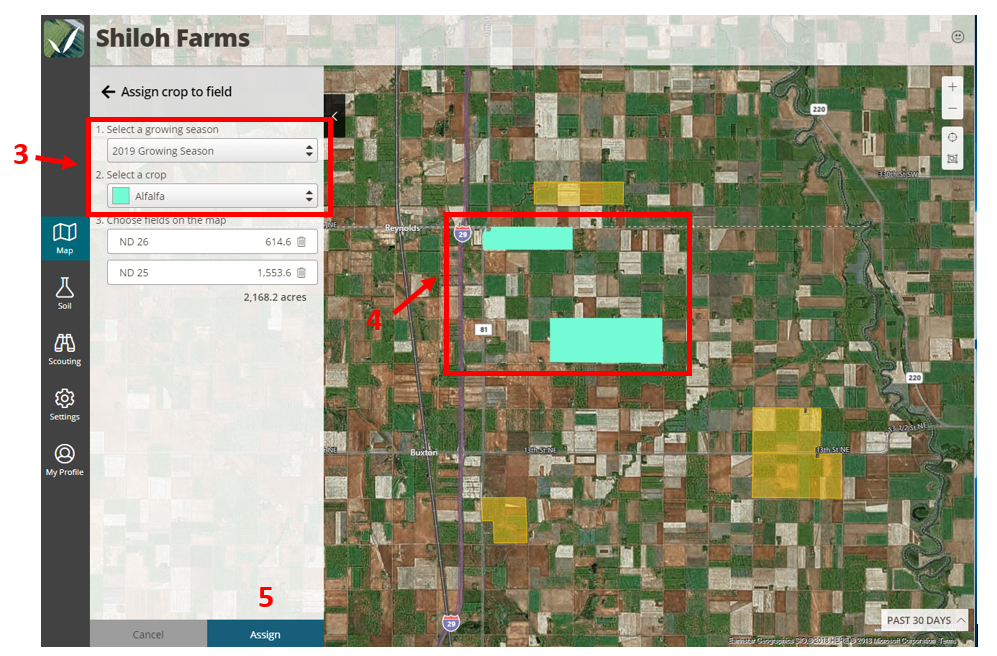 Note: If after the assignment is made you do not see the changes on the map, check to make sure the time slider in the bottom right hand corner is set to include the date ranges of your growing season.
Editing crop assignments
Login to FarmQA controller and access the desired enterprise controller.farmqa.com/

Click on "map" icon in the top left-hand corner

Next click on the field that needs to have the assigned crop changed
On the slide out pane, click "assign a crop" (as seen below)

Note: Make sure the proper growing season is selected in the top right-hand corner

Select the new crop/variety
Please contact FarmQA Support with any further questions