At anytime a user can generate a report of all events within a field in FarmQA. These reports are an export of our field journal tab. The events can be filtered by event type, then exported to PDF to see all events by date. This allows you to export all scouting reports or spray events from a field. See the instructions below for more details on how to use this feature.
Exporting field events from map view
Exporting field events from list view
Field Journal Export Application: Recommendation Totals
Exporting field events from map view
Log in to your FarmQA account from the web app.
Select the growing season you want to see data for, then click on the desired field.
Next click on the Field events button in the field details slide out pane (see below).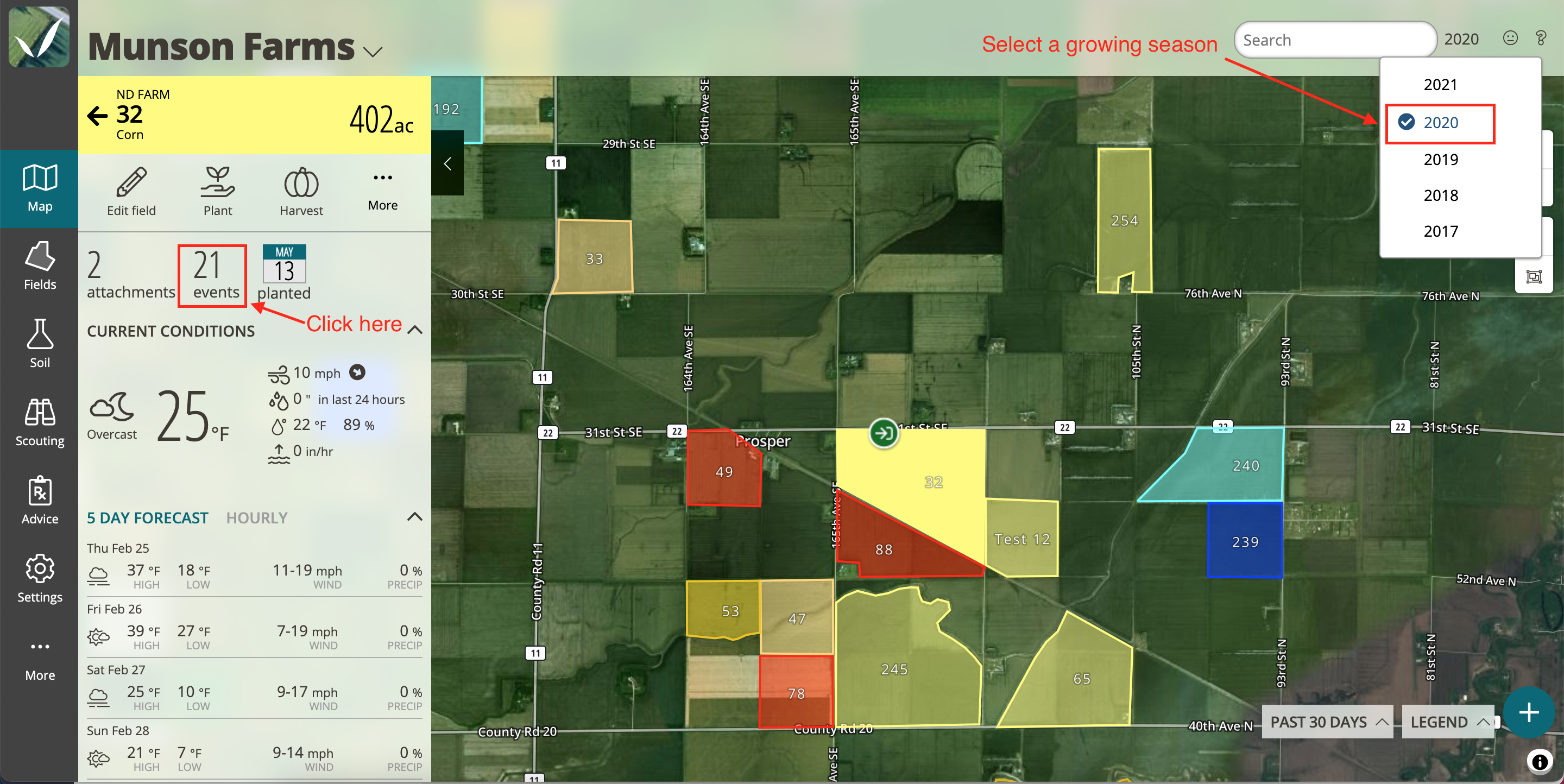 Filter the event list customize how what events you want in your report. The list can be filtered down by event type by clicking the event drop down list and selecting the events you want to see. You can filter the following event options:

Harvest date(s)
Planting date(s)
Scouting reports
Recommendations

Once you have selected your desired events, click Export PDF at the top of the list to download your report (pictured below).
Exporting field events from list view
Make sure you're in the correct Growing Season by checking the growing season in the upper right-hand corner of the screen.
Click on the Fields icon, then locate the desired field. You can easily find the field you want by using the Search bar in the upper right-hand corner of the screen.
Select the blue highlighted number under the Events column to view all events in the field for the selected growing season.
Select the events you want in your report, then scroll to the bottom of the list and click the Export PDF option.
Recommendation Totals
One application of exporting events in your field journal is being able to see the total quantity of products applied to a field over a season. Reports like this can be useful to provide growers with product usage summaries or for general record keeping. Follow the instructions below to see how you can use field journals to get a recommendation total for a field.
Access the field journal for a field from the map view or the field list view.
Use the Events dropdown menu to filter out all field events except for Recommendations (pictured below).
Click the Export PDF button at the bottom of the window.

Scroll to the last page of your downloaded PDF to view the total amount of each product that was applied to the field in the current growing season as per the recommendations that were made in FarmQA (pictured below).
Please contact FarmQA Support with any further questions