Mixing Rod Installation Instructions (360 SOILSCAN Update Kit)
Grasp the upper end of the old mixing rod and pull down firmly to remove it. Note: If the mixing rod does not come loose easily, use pliers to grasp and pull off. (Figures 7 and 8)
Line up the flat side of the hole on the new mixing rod (1) with the flat side of the mixing motor shaft (2). (Figures 9 and 10)
Push the mixing rod straight up onto the motor shaft. The mixing rod should slide into the shaft 1/2 inch.
Place a Dixie cup on the mix station to assure mixing rod does not come into contact with the sides or bottom of the cup. Note: If not fueled engaged with motor shaft, the mixing rod may be too low and cut the cup.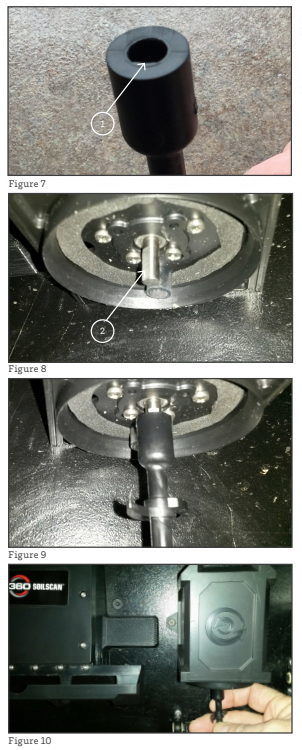 Please contact FarmQA Support with any further questions